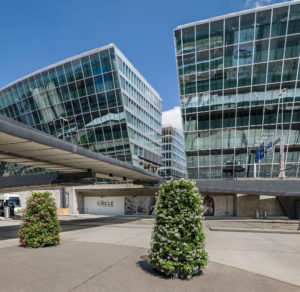 The new destination for Zurich will be ready for occupancy in stages as of mid-2020. On 1 September 2020 a large part of the brand houses and restaurants plus the Hotel Hyatt Regency Zurich Airport The Circle and the convention centre will open.
The shell of Switzerland's largest construction project is complete, and the last ceiling at THE CIRCLE was concreted just a few weeks ago. The facade assembly is proceeding on schedule, and in a few days' time the remaining protective wall will be dismantled. The first handover of rental space took place in early August.
Opening month September 2020
The public areas will be opened on 1 September 2020. Some office tenants will move into their space before this date. They include Flughafen Zürich AG, which will move its head office to the main airport complex in April of next year. The brand houses and restaurants will open on 1 September. Moreover, congresses for up to 2,500 people will take place at the convention centre starting in September, and the first guests will stay at the Hyatt Regency. The outpatient healthcare centre of the University Hospital of Zurich and the second hotel, Hyatt Place Zurich Airport/The Circle, will open by the end of 2020.
The opening celebrations will also take place in September 2020. Further information to follow.
About THE CIRCLE
THE CIRCLE will become a central attraction that shapes and strengthens Zurich Airport. From September 2020, it will be possible to hold conferences for up to 2,500 guests directly at Switzerland's largest national airport. An outpatient healthcare centre run by the University Hospital of Zurich, two Hyatt Group hotels, various brand worlds, attractive office space, and arts, culture, restaurants and education facilities will round out the wide range at Zurich Airport. THE CIRCLE will thus enrich the whole region, both culturally and economically. Flughafen Zürich AG and Swiss Life AG have formed a joint ownership company, with Flughafen Zürich AG holding a 51% stake and Swiss Life AG 49%.