BERN
Switzerland's Capital City

Whether you are planning a convention, a conference, a trade show or an annual meeting, with Bern as your event destination, you will be right on target. The unique charm of the Swiss capital city, the unparalleled mixture of traditional and modern, its compact size and its location as a gateway to the Alps make Bern the perfect destination for your next event.
Capital location
Thanks to its central location in the heart of Switzerland Bern can quickly be reached from all points of the compass. The city is directly linked to the international airports of Bern, Zurich, Geneva and Basel. If you prefer travelling by public transportation take advantage of a dense train network that guarantees direct connections to the most important cities in Europe.
Within the city itself everything is in walking distance or a short tram ride away. Just use your BernTicket for free rides on public transportations. Thanks to the short distances and transfer times there is more time for networking and a social program between the meetings. Bern's central location also makes it an ideal base for excursions to all parts of Switzerland.
Capital venues
The city of Bern has an outstanding meeting infrastructure, all close to the practically carfree UNESCO listed Old Town. Besides diffrent types of hotels and a huge selection of restaurants, bars, cafés and cultural institutions, the Swiss capital city also beasts BERNEXPO with the largest open air fair grounds in Switzerland for events up to 5'000 people and the Convention Center Kursaal Bern, one of Switzerland's most spectacular congress and event centers. The spacious glass-front Forum with spectacular views of the Old Town and a multi-functional arena for up to 1,500 persons await your guests along with an additional 29 conference rooms, three restaurants and bars, firstclass service and comfort in the connecting 4-star superior Hotel Allegro and great entertainment in the adjacent Grand Casino.
Capital culture
The romantic Swiss capital city owes its appeal to the unity of its urban landscape created by its sandstone buildings, countless cobbled alleyways and ancient towers and turrets from the Middle Ages and the Renaissance. All these treasures are enclosed by the loop of the Aare river, curving round the old town like a protective shield.
Behind the historical facades of the Swiss capital city, guests find everything their heart could desire: from ultra-modern shops with international brands, fashion boutiques through to exquisite local specialist stores and fine jewelers. The six km (four miles) of arcades in the old town make for a covered shopping promenade. Colourful markets with fresh vegetables, flowers and meat products are held several times a week within the Old Town.
Capital activities
Inspire people, reward teamwork, motivate employees and enjoy the slower paced Bernese lifestyle. The capital region is full of surprises with many unexpected opportunities and ideas providing the right mix of fun and action for your team. Discover the UNESCO Old town by trottibike, have an artistic lesson at the creative atelier at Zentrum Paul Klee or enjoy a typical Bernese aperitif on top of Switzerland's highest church tower. The Bernese countryside with its famous Emmental valley and Nature Parc Gantrisch offer as well a wide range of typically Swiss experiences. Why don't you boost your team spirit during Swiss farmers games, an eBike Tour or a cheese making workshop?
Capital Services
Are you planning a congress, a convention, a team event or an incentive trip? Our Team at Bern Convention Bureau would be happy to provide you with our insider knowledge in finding suitable venues for your event, booking and managing hotel rooms as well as planning your excursions. And the best part of it… most of the services are free of charge.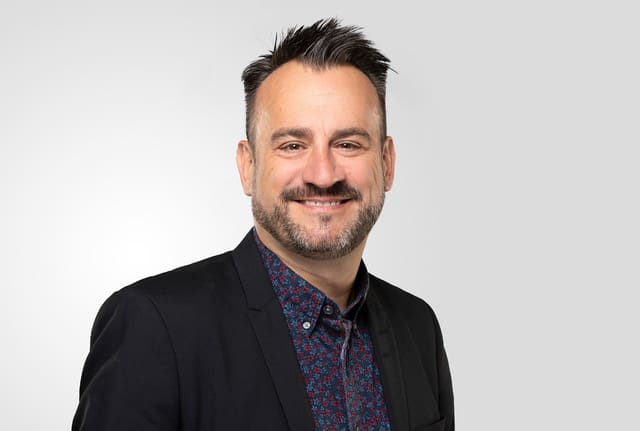 Bern – where relaxed people meet!
Mischa Niederl shares insights on what makes Bern a special MICE destination
Mischa Niederl
Head of Bern Convention Bureau
Bern is one of the most popular MICE destinations in Switzerland. Are there any competitors?
The competition is enormous and new destinations are constantly being added, as new entrants have discovered the meetings segment as an interesting target group.
Bern has long since established itself as a host destination. Not least thanks to its central location, short distances and the impressive old town – people like to meet in Bern. Another advantage is the proximity to nature and typical seminar hotels in inspiring landscapes such as the Emmental region.
Apparently you want to work more on the meetings area in the future, does that sound accurate? What are your plans regarding how you want to implement it?
First we must position Bern more strongly as a meeting destination. Today Bern is perceived more as a cosy city for leisure travellers. Our picture language will change and show the business side of the city. 
In terms of acquisition, we will focus more strongly on the areas of expertise (clusters) where Bern is a Swiss or international leader. These are medical, energy and environment, politics and sport. New services, such as access to competent speakers, can be offered via a far-reaching network in science, business and politics.
What do visitors to Bern most expect – what is in highest demand ? Both in the city/surroundings and in terms of conferences.
Visitors to Bern can look forward to friendly locals, a relaxed atmosphere and historical sights. Switzerland is not only expensive – in Bern you can experience many things for free. All open-air swimming pools, parts of the zoo, the BearPark and refreshing drinking water from all fountains are available free of charge.The capital itself is very green and congress participants can go jogging or cycling in the evening directly in front of the hotel. All around Bern you will find a gently rolling landscape with lush green cow pastures, forests and rustic seminar hotels far away from the hectic city life of the big cities.
Guests of Bern appreciate the high quality of the gastronomy. You don't have to go to a gourmet restaurant for this but can take a break in one of the many cellar restaurants. Incidentally, Bern is secretly the beer capital with the highest density of breweries in Switzerland.
Which venues are the most popular for meetings & events ?
The largest congress centre in the capital region with probably the most beautiful view of the Old Town and the Alps is called Kongress + Kursaal Bern. Here you will find 30 halls with state-of-the-art infrastructure, many ideas for new formats and, last but not least, excellent cuisine.
Meeting planners will find excellent value for money and seven conference rooms in the Hotel Bern, which has just been completely renovated. Located 5 minutes' walk from the railway station in the heart of the city, it has just been given an exceptional rooftop bar. 
Our clients find total inspiration in one of the seminar hotels in the region, such as the Schlosshotel Hünigen or on the Moosegg in the Emmental valley. Here they pay special attention to personal service and catering with regional products.
What does Bern offer in the MICE sector that other destinations do not offer? What makes Bern special ?
All meeting participants who stay overnight will automatically receive their personal BernTicket, with which public transport is available free of charge. Another unusual feature is that the most important venues and hotels are all on the same tram line. This eliminates the costs for transfers or shuttles, and delegates have a connection every 7 minutes.