Bürgenstock Resort Lake Lucerne
CH-6363 Obbürgen
Phone +41 41 612 90 10
Fax +41 41 612 99 01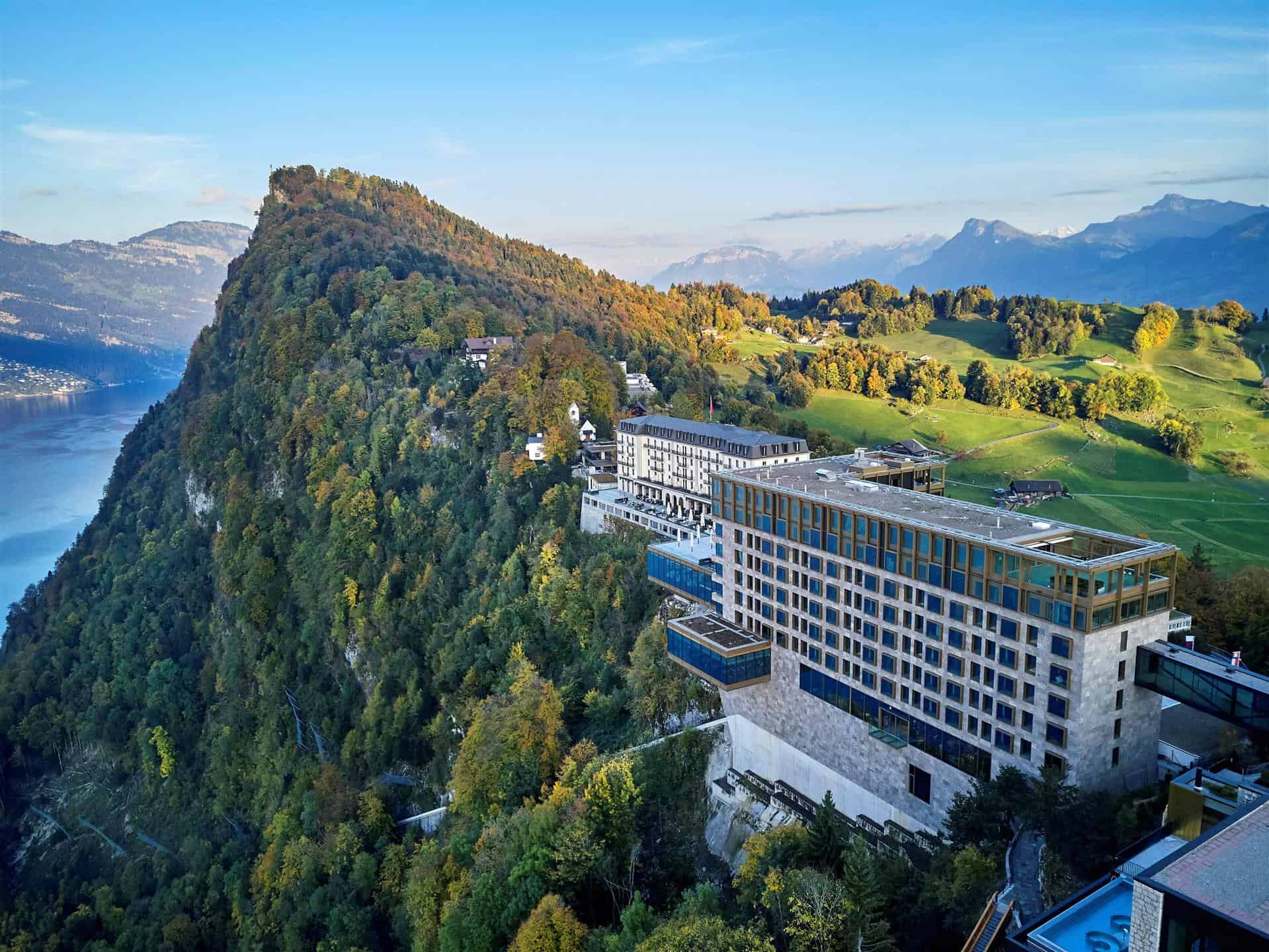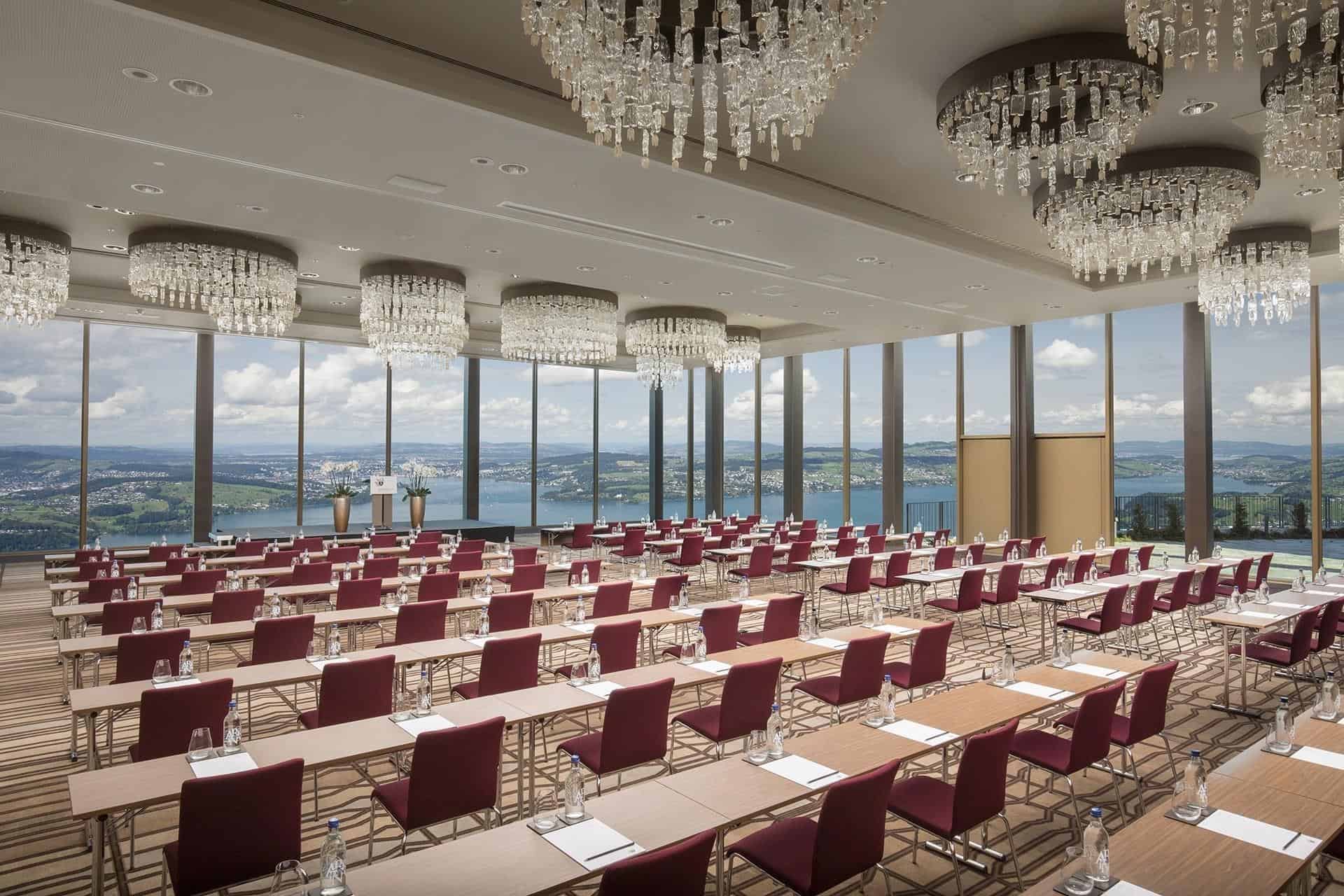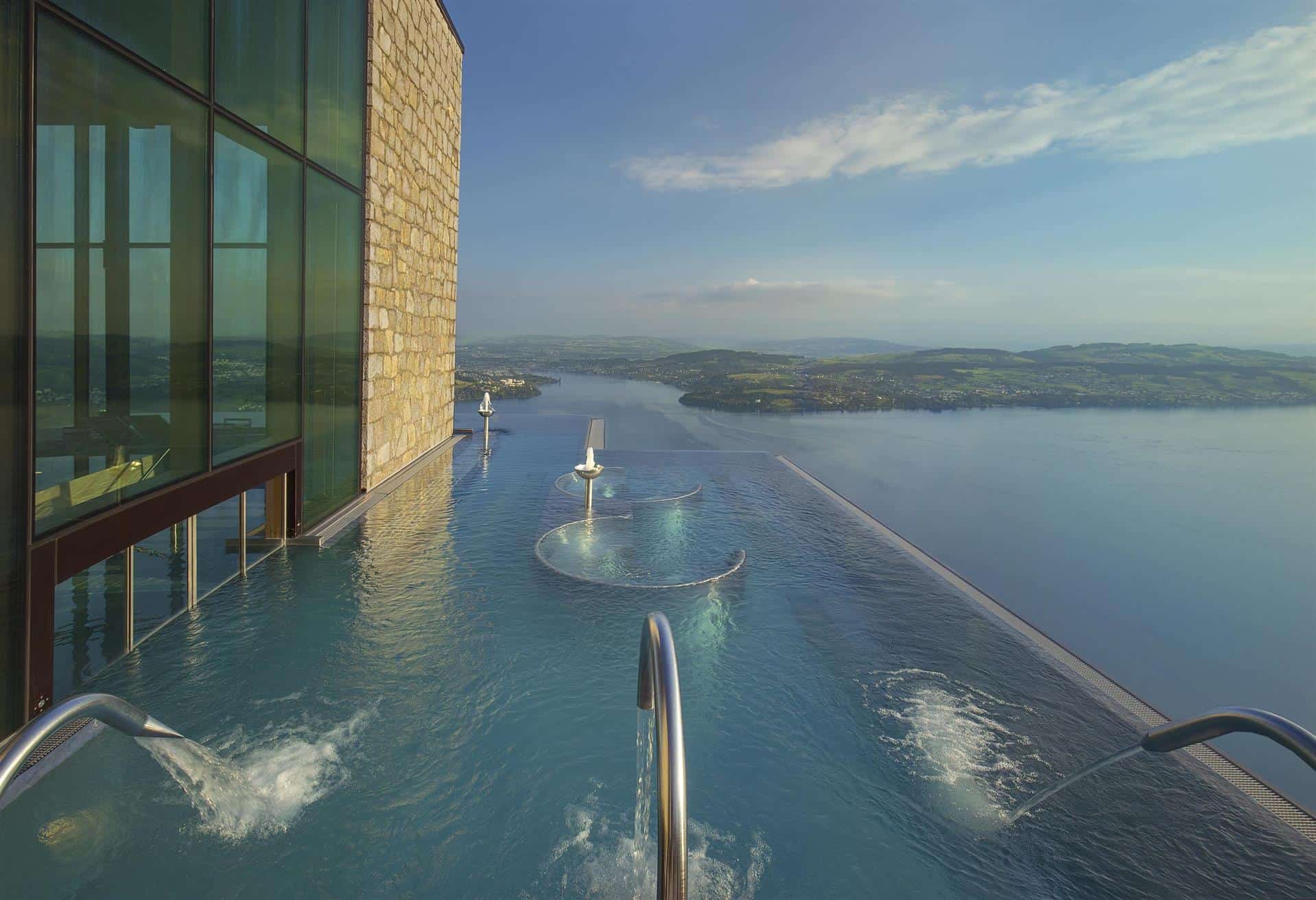 Unforgettable moments with breathtaking views
A premier destination is emerging in the heart of Switzerland – the completely re-developed, historic Bürgenstock Resort Lake Lucerne, perched 500 meters above the lake from which it takes its name. The resort features four hotels with 383 rooms, a Healthy Living Center, Residence Suites with hotel service, the unprecedented 10,000sqm Bürgenstock Alpine Spa, numerous restaurants and bars, as well as a wide selection of leisure opportunities for relaxation and active recreation. The centerpiece of the new resort is the conference center for up to 900 participants with a surface area of 2,200sqm. The resort is due to open in summer 2017. The location and concept of the new Bürgenstock Resort Lake Lucerne are truly unique. Switzerland's largest integrated resort offers countless attractions and activities, situated only 1 hour from Zurich Airport or 20 minutes from Lucerne.
Arriving in style
Driving by car from Lucerne to the resort only takes 20 minutes. An alternative and incomparable arrival is to take the shuttle boat from Lucerne to Kehrsiten and change to the Bürgenstock Funicular. The arrival of the funicular directly into the Bürgenstock Hotel of the new Bürgenstock Resort will become a highlight for the guests. Moreover, the whole trip only takes 30 minutes.
Brand-new conference center overlooking Lake Lucerne
500 meters above Lake Lucerne, the Bürgenstock Resort offers spacious meeting facilities designed for up to 900 people to provide an outstanding setting for successful events and a demanding clientele. The ultra-modern conference center offers a total of 2,200sqm of meeting and event space and is equipped with the latest technologies. Split into 31 modern business premises the conference center can cater from small private celebrations to large-scale international events. The Lakeview Ballroom can accommodate up to 600 guests.
In addition to the regular indoor business premises, the Bürgenstock Resort offers two large tennis halls of 850sqm each, the Katara Domes. Both halls can double as event and conferencing venues for around 500 attendees each. What is more, the resort features a variety of interesting outdoor areas that can be used as event space. A tennis court with 970sqm, the Piazza with 1,500sqm and 4 different terraces await you within the resort.
Choose between 4 truly different hotels
In its totality, the resort offers 383 hotel rooms in four different hotels. Choose your best fit among our first-class rooms for your congresses, events or meeting.
Bürgenstock Hotel 5* Superior
The newly built Bürgenstock Hotel, with its modern architecture and contemporary design, will boast 102 rooms & suites with an incredible view far above Lake Lucerne. This is where guests will arrive via the legendary Bürgenstock Funicular, then proceed to the Piazza.
Palace Hotel 4* Superior
The historically valuable Palace, built in 1905, is being renovated in line with the precepts of preserving its heritage and character. It will offer 108 rooms and suites. The modern conference center is an ideal setting for meetings, seminars and conferences of any kind – the perfect spot for business and leisure travelers.
Waldhotel Healthy Living 5*
In the Waldhotel, designed by architect Matteo Thun, extraordinary architecture meets modern medical standards. Regeneration and prevention at the highest level, with 160 rooms and suites as well as an integrated spa.
Restaurant & Pension Taverne 3*
The Taverne offers 65 seats as well as a generous terrace for visitors and hikers. Guests can enjoy authentic Swiss cuisine here. The Taverne has 12 newly refurbished, comfortable rooms available.
Bürgenstock Alpine Spa
At the Bürgenstock Resort, top priority is given to our guests' well-being – and this applies to all visitors who come to Central Switzerland to attend a congress or meeting. The available facilities set a new benchmark in the opportunities for relaxation that are provided for congress participants. After all, what could be better after a long day of presentations and work sessions than to relax against a breathtaking backdrop? A unique Alpine Spa is currently in the making at lofty heights, comprising a total surface area of 10,000sqm. It is not only one of the biggest facilities in Europe but also one of the most attractive and modern – and the stunning view over Lucerne and the Alpine landmarks of the Rigi and Pilatus mountains is unrivalled, promising all congress delegates a truly unique spa experience.
10,000sqm spa with indoor and outdoor areas
One indoor and two outdoor pools, one of which infinity edge, with 35°C water temperature
15 treatment rooms and 3 private spas for massages and beauty treatments
Sauna landscape, hammam, showers, and whirlpools (both unisex and separate ladies' area)
Kneipp bath
Fitness park open 24/7, yoga room
Hairdresser's salon, manicure, pedicure and other beauty treatments
Asian and international cuisine
The Bürgenstock Resort offers 12 restaurants, bars and lounges that are internationally oriented in every respect. Aside from Sharq, an original oriental restaurant where you can enjoy typical mezze and grilled dishes, there is the Asian Restaurant Spices. Spices offers specialties from India, China, Japan and Southeast Asia and features an attractive demonstration kitchen and has a spacious viewing terrace. A further culinary highlight is the French fine dining Restaurant RitzCoffier. The charming restaurant is located in the legendary Palace Hotel, where the cuisine of César Ritz and Auguste Escoffier is revived and continuously celebrated. As a reminiscence to the past with its copper pans and pots, the old stove of the Palace Hotel located in the middle of the room, is an eye-catcher that allows you to re-experience culinary delights just as in the early days. Authentic Swiss cuisine is served at several of the 12 restaurants, for example at the Restaurant Taverne or the Restaurant Trogen, a country-style restaurant.
Crowned heads and guests from politics, business and entertainment
The new resort looks back on a glorious legacy: the Grand Hotel opened for business in 1873. The Bürgenstock Railway, Europe's first electric funicular, was inaugurated in 1888. 1905 saw the opening of the Felsenweg path, a path among the face of the mountain. The Hammetschwand Lift, the highest outdoor elevator in Europe, commenced operations that same year, too.
During the 1950s and 60s, the Bürgenstock Resort became a favorite haunt of famous personalities from society, business, politics and sport. These included stars and other notables such as Audrey Hepburn and Mel Ferrer (who held their wedding at the resort in 1954), Charlie Chaplin, Sophia Loren and Carlo Ponti, Sean Connery, Pandit Nehru, first prime minister of India, and his daughter Indira Gandhi, who also went on to become prime minister, and many more VIP's.