Kurhausstrasse 65
CH-8032 Zürich
Phone +41 44 456 62 00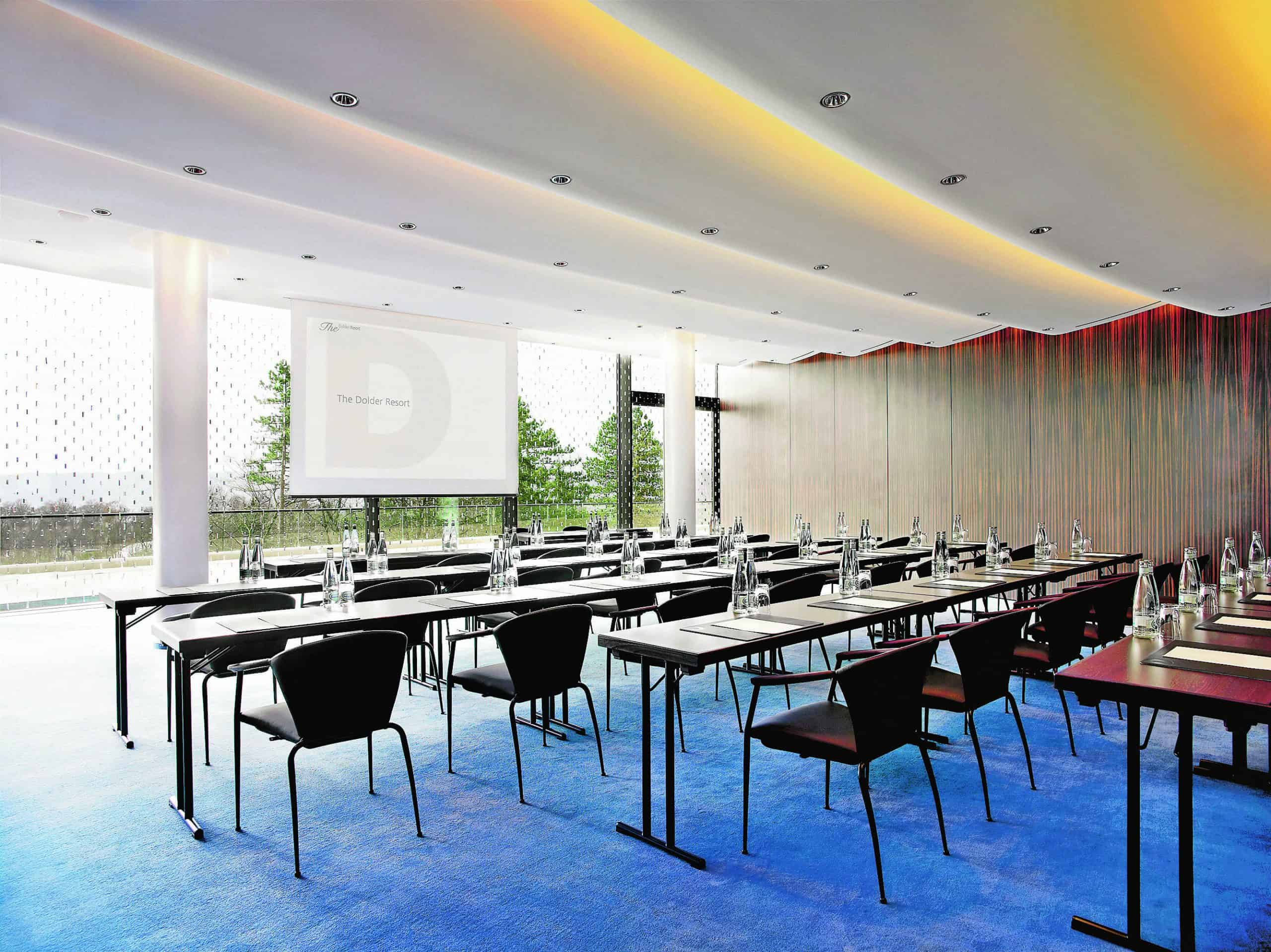 The Dolder Grand is simply perfect for anyone seeking pleasure, exclusivity and relaxation: 175 luxurious rooms & suites, exquisite cuisine, a 43,000 ft2 spa accompanied by spacious event as well as seminar facilities. The Hotel's elevated location between pulsating city and invigorating nature provides guests with magnificent views over Zurich, the lake and the Alps.
For very special events
At the Dolder Grand, you and your guests will experience good old-fashioned luxury in a surprising new form. Be it a wedding, banquet, seminar or a meeting; as a conference hotel, for presentations or other events – our exclusively appointed rooms for up to 600 people provide the perfect setting.
Ballroom
Encompassing 4,305 ft2, the impressive oval Ballroom is designed for flexibility. The spacious foyer can serve as a reception area, which can be extended onto the adjoining private terrace. For conferences and seminars, banquets or romantic weddings, the Ballroom offers a wide range of seating arrangements.
Gallery
The 7,534 ft2 large oval Gallery offers a variety of possibilities for use. This bright, modern and spacious room is the largest function room at the hotel, making it ideal or major events such as gala evenings, car presentations, exhibitions or well-attended conferences.
Gallery Lounges
The three bright Gallery Lounges with floorto-ceiling windows can be combined individually. All rooms have parquet flooring and offer access to the private terrace with south-facing views.
Garden Salons
The three Garden Salons have floor-toceiling windows enabling a bright and spacious feel. Combinations of between 1,291 and 4,402 ft2 are possible. The individual Salons can be subdivided and are ideal for seminars, conferences and family occasions. All Salons offer direct access to the south-facing terrace.
Libraries
The two Libraries are adjacent to one another and provide a cosy living-room feeling. For special family occasions, meetings, small receptions and private dinners, the room is customised to suit the event. On select dates between April and  October, the Libraries are a popular Zurich wedding venue and can be booked via the city of Zurich's website.
Breakout Rooms
Five Breakout Rooms are available for small meetings and conferences. The bright rooms are equipped with modern meeting technology.
Facts The Dolder Grand
5 star superior Hotel
175 rooms including 4 Top Suites and 1 Residence
Fine Dining: The Restaurant (2 Michelin stars, 19 GaultMillau points)
All day dining restaurant: Saltz (14 GaultMillau points)
Omakase restaurant Mikuriya
Seasonal pop-up restaurants which can be exclusively booked for events
 Spa: 43,000 ft2 (3,995 m2): Ladies' Spa/Gentlemen's Spa, Aqua Zone with pool, Work-out, Treatment rooms, Medical Wellness
 Gallery 7,696 ft2 (715 m2)
 Gallery Lounges 3,701 ft2 (344 m2)
 Ballroom 4,300 ft2 (400 m2)
 Garden Salons 1-3 4,400 ft2 (409 m2)
5 Breakout Rooms & Library 1 & 2