Therese-Giehse-Strasse 10
CH-8050 Zürich-Oerlikon
Phone +41 44 444 26 26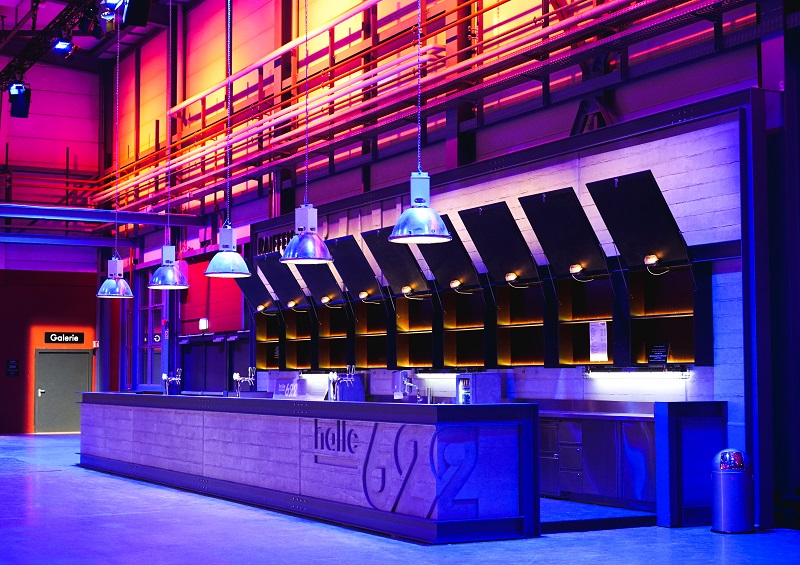 Halle 622 – an urban, centrally located multifunctional venue with industrial charm next to the railway station Zürich Oerlikon. Winner of the renowned Swiss Location Award, several years in a row.
The industrial Halle 622 was built by ABB Switzerland and was used until 2012 for the production of high-voltage equipment. After a reconstruction, the former industrial halls were reopened.
The venue is since then a universally usable event and concert location run by MAAG Music & Arts AG in Zurich. With a total area of 4200 m2, the Halle 622 is an ideal location for trade fairs and exhibitions, conferences, general meetings, gala dinners, company celebrations, shows and concerts with a capacity of up to 2500 people for cor porate events and up to 3500 persons in the concert layout.
The core piece is a pillar-free event hall with 1818 m2 including a gallery with 347 m2. The Foyer with 880 m2 offers ample space to serve as a catering zone, entrance area or exhibition space.
Advantages
Visitors to Halle 622 can enjoy a spacious and covered outdoor area, a large foyer and the main hall (incl. gallery). The venue is accessible for trucks and cars. It should be emphasized that the event hall is barrierfree and can therefore be used perfectly for car launches. Additional rooms such as wardrobes, catering kitchen, toilet area and backstage wardrobes round off the space on offer. In addition to its central location, its authentic industry-charm provides the best circumstances for holding a successful event.
Location
Also advantageous is the central location directly next to the train station in Zurich Oerlikon and the good connections to public transport and the motorway, as well as adequate parking facilities and hotels in the immediate vicinity are further advantages of the event hall.
Partner
In order to increase and establish great quality, they work with various partners in Halle 622. In different fields – including but not limited to catering, technology and security – they can connect you with the right contact persons and relieve you of a lot of preparatory work.
Team
The dedicated Halle 622 event team will advise and support you in the organisation of your event. Trust them to make your event a success: they are committed to meeting your individual needs and exceeding your expectations. Contact them today and they will elaborate an individual offer for you.
Halle 622 offers you:
1 pillar-free Hall (1818m2 incl. 1 Gallery 347m2)
1 Foyer incl. 1 fix bar area and 2 wardrobes (880m2)
1 huge outdoor area (partially roofed)
1 Backstage with multiple rooms
a lot of storage possibilities given
several parking garages in walking distance
next to the railway station Zurich Oerlikon (3 minutes distance to Zurich HB by train)
distance to Zurich airport 6km
various accommodations around the Halle 622
multifunctional Venue